The Swedish glam rockers Velvet Insane inks a record deal with Wild Kingdom/Sound Pollution and are set to release their new album "Rock 'n' Roll Glitter Suit" this coming summer.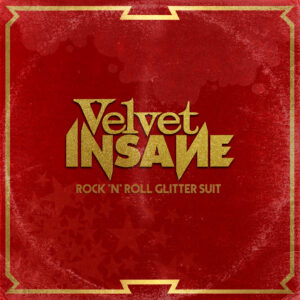 The band comments:
It feels inspiring and exciting to have signed a deal with Wild Kingdom. After working our asses off for years jumping around on different record companies it feels like we finally found our home. Wild Kingdom got the distinct rock 'n' roll vein that we all love. Together we have made this glammy high energy rock 'n' roll album that we feel very proud of. A wam bam beat that will knock you of your feet.
The 11 track long "Rock 'n' Roll Glitter Suit" album sounds, breathes, and swaggers like it was made in London 1973. Smooth pop harmonies pumped up by heavy drums and barbed wire guitars and singer that wear it well. It brings back memories of a time when Slade, TREX, Bowie & Roxy Music were topping the charts.
From the catchy singalong choruses of the pop gems "Velvet Tongue", "Riding the Skyways" & "Sound of Sirens" to the frantic boogie energy in barroom stompers "Driving Down the Mountain", "Backstreet Liberace" & "Spaceage DJ", it's the real thing. You also get a glimpse of Ziggy Stardust in the acoustic ballad "Midnight Sunshine Serenade".
Velvet Insane are a band that plays with their hearts on their sleeves and it's satisfaction guaranteed. Dregen and Nicke Andersson from The Hellacopters jumps in the backseat in "Backstreet Liberace" and just like Rolling Stones honored the tradition of Muddy Waters blues Velvet Insane takes on the job to keep rock 'n' roll alive.
Rock 'n' Roll Glitter Suit is released via Wild Kingdom on July 16.
Pre-Order the album: https://orcd.co/rock-n-roll-glitter-suit