GATUPLAN (translating to Street Level) releases the second single APAN PÅ RYGGEN from the upcoming album KAMPEN GÅR VIDARE! (Sound Pollution/Wild Kingdom) on February 5th 2021.
GATUPLAN is something as unusual as a punk rock-solo project, put together by swedish musician Inge Johansson (ex-bass player of THE (INTERNATIONAL) NOISE CONSPIRACY, CSS, AGAINST ME! and CRYSSIS) doing global punk rock in Swedish! All songs on the upcoming album are written by Inge, except for APAN PÅ RYGGEN – which is a cover of the norwegian band ONKLP & DE FJERNE SLEKTNINGENEs song STYGGEN PÅ RYGGEN from 2014.
Inge tells us why he decided to record a cover version of this song – "I was living in Oslo, Norway when this song was everywhere and the first time I heard it – it gave me goosebumps! It's that kind of song you hear once every tenth year, a song that totally becomes the song of songs. I just couldn't stop listening to it, and I'm still not tired of it. It's one of those songs that you didn't write, but it feels like it was written about and for you. The lyrical theme about struggling with your mental health is very universal. When I recorded GATUPLANs debut album I wanted to include a cover song, and STYGGEN PÅ RYGGEN was my first choice. I started translating the lyrics fron Norwegian to Swedish, I cut some parts out and added some of my own and all of a sudden I had more of an interpretation than a word for word-translation. My reworked lyrics got the blessing from ONKLP & DE FJERNE SLEKTNINGENE and I hope that I've made the song justice. And I also want this song to be a homage to all the great bands and musical legacy in Norway, there's been so much amazing music comig out of that country."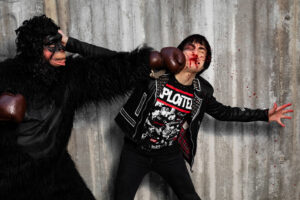 Musicians on APAN PÅ RYGGEN (the song title translates to THE MONKEY ON YOUR BACK) are Jouni Haapala (drums) and Simon Dahlberg (guitar) from legendary swedish punk rockers DE LYCKLIGA KOMPISARNA, Anna Philipsson (ex-KNUGEN FALLER) on backing vocals and LARS EKMAN (STILETT) on keys. "I wanted the best, and I've got them!" – laughs Inge, and the song was recorded at Dustward Studios in Stockholm by Stefan Brändström.
GATUPLAN's debut album KAMPEN GÅR VIDARE! (translating to THE STRUGGLE CONTINUES!) is due to be released February 26th 2021. There will be no stopping the cretins from hopping!