Diamond Dogs releases their second single "Rocket Ricochet" together with a music video from their upcoming 24 tracks strong double album "Slap Bang Blue Rendezvous". The song is produced and mixed by Tomas Skogsberg at the legendary Sunlight Studio.
The Duke of Honk comments on the single:
Skogsberg's Cream Island is the heart and origin of Diamond Dogs' fab jab rocket trip! Glorious days and nights, drifting together in the veins of glam rock.
The new album Slap Bang Blue Rendezvous is produced and mixed by Tomas Skogsberg, and the songs are all composed, jammed, arranged and recorded in Sunlight Studio, Gräddö, Sweden, mainly during the summer months of 2020. The Sunlight Studio is without a doubt Diamond Dogs' true home ground. The group have had countless of collaborations with the inimitable producer throughout the years. During varying periods of time, the band members come and stay in the studio's cottage annex, with sessions, mind expanding, forest walks and rock 'n' roll tales around the clock. Their common love for the golden years of 'Mott' makes them inseparable.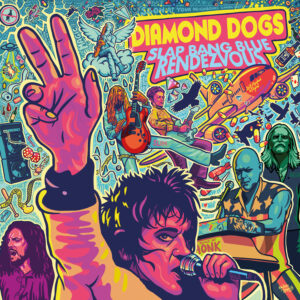 Slap Bang Blue Rendezvous is a release for children of the 70's. From the top it conjures up the spirits of the 70's glam rock era. The warm atmosphere brings the air of the golden age, and the energy of the songs and performance give a promise of rock music for the new generation! Diamond Dogs leaves the listener feeling like they've been somewhere momma told them not to go but knowing that they'll soon be visiting again!
"This is my masterpiece, my White Album" as Tomas Skogsberg himself puts it. And we can only agree!
Hear the single and pre-order the album: https://orcd.co/rocket-ricochet